The last two Patriots games have been a couple of the most boring games we've seen in years. I understand that Tom Brady is out for the season and the high flying Patriots offense of last year can't exist without Tom, but come on.
I guess this is all part of the learning curve with a new quarterback. Tom did the same things when he was first brought in. Tom deked and dunked with short screen passes and the league thought that Tom couldn't throw the long ball. Well, a Randy Moss bomb in the San Francisco game proved that Cassel could throw the bomb, but a few similar passes since have proven it's not always accurate.
So when you're forced to deek and dunk, play possession football what do you need? You need a solid running game. With Sandyvagititus Maroney on the IR, LaMont Jordan not playing in five games, and Sammy Morris not playing in the last three you had to wonder who would step up. Well BenJarvus Green-Ellis has filled that void. He rushed for 105 yards and a score in yesterday's 20-10 win. This guy seems to be tackled so many times yet he keeps his legs churning and emerges from the scrum for a first down.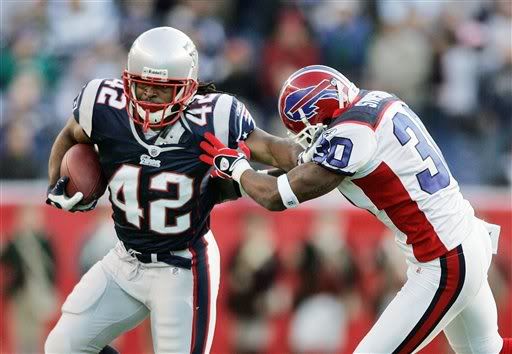 Not to be lost in the offense was yet another great game from the Speedy White Guy, Wes Welker. This guy has been the only consistent player in one of my fantasy teams and I'm so glad that he is Cassel's binky.
Now the bad news. Adalius Thomas is likely out for the season with a broken arm. This is a significant loss to an already depleted defense. The rookies (you know, the guys that as you're watching you say, "Who the hell is that?") have done alright, but it will be a very tough task to fill those shoes.
So the Pats are tied now with the Jets atop the AFC East at 6-3 for first place. Which makes Thursday night's game that much more important. I heard some dumb broad reporter ask Coach Bill what he'd do differently with first place on the line Thursday. Bill looks at her and says, "Nothing." Awesome. Ask a stupid question…