"So who do I pick? Well with the Pats being a 5.5 point underdog, even if they lose this game it'll only be by three…"
Jay's Sports Blog 10/31/08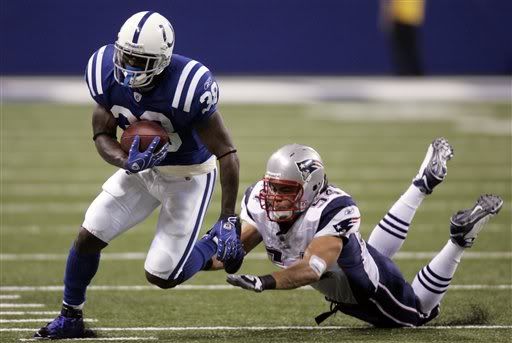 After a day of watching football (Bills vs Jets, Packers vs Titans, Giants vs Cowboys) I was pretty psyched up to see my home team face off against the Colts. Unfortunately with day light savings I by eyes were getting heavy around 10PM and the play on the field didn't do much to keep me awake. This was a very boring game and there was no excitement for me until the fourth quarter.
By excitement I mean rage that made me want to throw my remote at the wall (never at the TV, it's too nice). First Jabar Gaffney, who has 12 catches this season, drops a sure touchdown. Then David Thomas decides that after he played a whopping two games last season, that he needs to get a 15 yard penalty after the whistle blows. And that play cost the team the game.
Dear David Thomas,
You oft injured, country bumpkin, Opie looking piece of human excrement. Don't try and hide behind the team on this one. It was you. All you. You're the reason the team lost the game. Even Tom Brady would have a hard time with a third and sixteen, opposed to a third and one. I hope coach Bill punched you in your stupid looking face as soon as you got in the locker room and Mike Vrabel duct taped you and threw you in an equipment bag and shipped you back to Foxboro via UPS. If the team weren't so thin at TE already, I'd say release your ass, but that should be punishment enough.
-Jay
So the Pats come back to Foxboro tied for first in the AFC East with a 5-3 record. Same as the Jets and Bills, with Miami right behind at 4-4. Wouldn't 6-2 be that much better? Well, we can thank Shit-for-brains David Thomas. Next up is a showdown with the Bills, who got beat by the Jets yesterday. Hopefully between now and then Cassel-face learns to throw the long ball, more importantly Jabar "Featherstone" Gaffney learns to catch it.